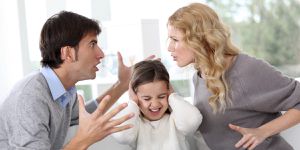 Divorce has a huge impact on the education of children simply because of the gigantic distraction it causes in how a child perceives safety, security, normalcy and their perception of how they fit into things.
It is not to say that children were necessarily a calm existence before a divorce, because there are many times a good bit of turmoil that leads up to a divorce, but no matter what the circumstances, a child's world can become disrupted in a major way when a divorce occurs.
It is difficult to concentrate on anything, in many cases with children when a parent is no longer in the day to day picture. A child sometimes feels that the problem is their fault, and perhaps there was something that they could have said or done to have prevented the divorce in the first place.
Then they also see the spouse that is still in their daily lives in turmoil, which does not solidify their confidence in the situation either. Many children simply give up on a lot of things, as their trust capabilities have been shattered. If their parents can't even figure things out, why should they trust anybody?
Depending on the age, school work may suddenly become very unimportant, and it will descend to the bottom of the list in the arena of important items about to be concerned. Emotions are very powerful, especially with children of all ages, and their main concern is how to fix the thing, and feel safe again.
On the other hand, some children, more so with older children, will use schoolwork as a distraction, and their work may improve. It might be a time when they use this as a way to distance themselves from the hurt and to show that they are capable with or without a hurt as deep as their parents getting a divorce.
When a student finds that they can excel with their scholastic efforts, it gives them a self-worth that transcends the pain and emotional morass that follows during and after a divorce situation.
Of course, all of these factors will vary depending upon the strength of the remaining spouse, the age of the child, and the emotional stability of the child.
In many cases, thoughtful counseling can be of great help to children whose parents are divorcing, with the main element being that the divorce in no way affects the value of the child and that they are free agents in the process, so they can continue to do well in whatever they wish to pursue.
To be informed of the latest articles, subscribe: